Although breakfast is seen as the most substantial meal of the day, I am not the greatest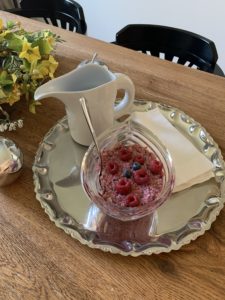 fan of having a big breakfast. Presently, my appetite in the morning is satisfied by an apple or fat-free yoghurt. The only exceptions I make is on the weekend where I have time to enjoy breakfast with my family especially pancakes and croissants. 🙂
I must admit I have experimented around with healthy breakfast recipes from smoothies bowls to breakfast muffins but they have never succeeded as well as this dish has.
Bircher muesli with berries
Bircher muesli originates from Switzerland and is seen as healthy and contributes to weight loss.
Ingredients (for 2 portions) :
250 ml of unsweetened oat milk
2 tablespoons of raisins
80g of rolled oats
2 tablespoons of Hazelnut grains
1/2 of a small apple
300 g of berries ( I took Blackberries, strawberries, raspberries and red currants)
1 tablespoon of lime or lemon juice
1. Wash the berries. Put half of them (150g) into a mixing bowl and blend them. Add the oat milk and the rolled oats to the blended berries and mix with a spoon.
2. Wash the apple, cut it into quarters and core it. Grate the apple coarsely with a vegetable grater and pour the citrus fruit juice onto the grated apple. Then, add the apple and the raisins to the mixing bowl, again mix it with a spoon.
3. Distribute the muesli between two bowls and add the leftover berries and the Hazelnut grains on top as a garnish.